$ภAureobasidium (black yeast) β-glucan patents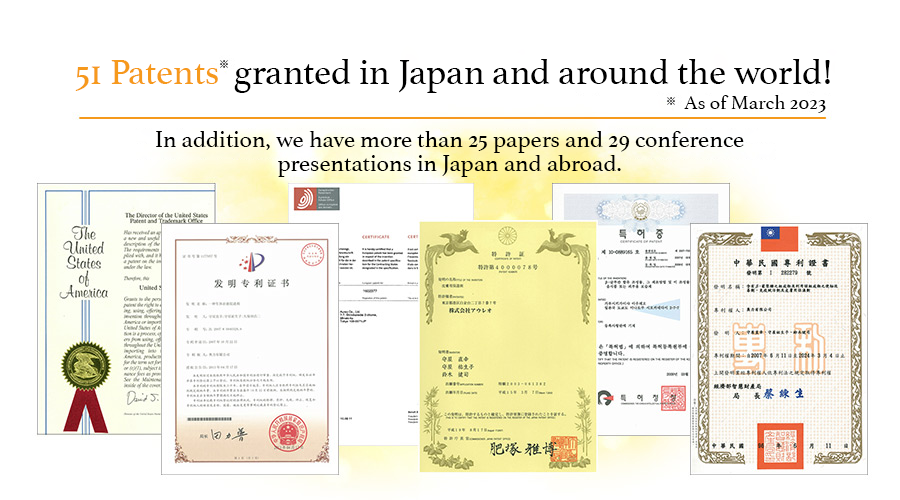 Aureo has continued research and development of β-glucan in collaboration with universities and research institutes, aiming to obtain high quality research results,
In March 2010, Aureo Science Inc. was established as a basic research division in the Business Spring at Hokkaido University.
Currently (March 2023), 51 patents have been granted domestically and internationally.
Focusing on the usefulness and high functionality of β-glucan, we aim to further develop our research in order to contribute to the health of all living organisms.
Japan
| patent number | registration date | Title of invention | country of registration | Details page |
| --- | --- | --- | --- | --- |
| Patent No. 4000078 | August 17, 2007 | skin moisturizer | Japan | read more |
| Patent No. 4054697 | December 14, 2007 | constipation remedy | Japan | read more |
| Patent No. 4369258 | September 4, 2009 | Immunostimulant | Japan | read more |
| Patent No. 4268105 | February 27, 2009 | β-Glucan-Containing Composition, Method for Producing the Same, Food and Beverage Containing the Composition, or Moisturizing Agent for Skin | Japan | read more |
| Patent No. 5331482 | August 02, 2013 | Biological healing promoter | Japan | read more |
| Patent No. 5715659 | March 20, 2015 | Biological healing promoter | Japan | read more |
| Patent No. 5560472 | June 20, 2014 | therapeutic agent for influenza virus infection | Japan | read more |
| Patent No. 5242855 | April 12, 2013 | immune adjuvant | Japan | read more |
| Patent No. 5360849 | September 13, 2013 | Probe for intestinal post-absorption dynamics observation using β-1,3-1,6-glucan labeled with stable isotope 2H and/or stable isotope 13C | Japan | read more |
| Patent No. 5554221 | June 06, 2014 | Bovine mastitis preventive/therapeutic composition and bovine mastitis preventive/therapeutic method | Japan | read more |
| Patent No. 5559173 | June 13, 2014 | Cytokine production promoting composition in macrophages | Japan | read more |
| Patent No. 5937029 | May 20, 2016 | TRAIL expression enhancer | Japan | read more |
| Patent No. 6293187 | February 23, 2018 | Composition for promoting hematopoietic function and composition for preventing and/or improving anemia | Japan | read more |
| Patent No. 6380968 | August 10, 2018 | Fat accumulation inhibitor | Japan | read more |
| Patent No. 7088502 | June 13, 2022 | Composition for enhancing effect of antibody drug | Japan | read more |
EU (UK)
| patent number | registration date | Title of invention | country of registration | Details page |
| --- | --- | --- | --- | --- |
| European Patent No.1602377 | August 10, 2011 | β-Glucan-Containing Composition, Constipation Remedy, Immunostimulant and Skin Moisturizer Using the Composition | EU (UK) | read more |
| European Patent No.1788091 | June 01, 2011 | β-Glucan-Containing Composition, Method for Producing the Same, Food and Beverage Containing the Composition, or Moisturizing Agent for Skin | EU (UK) | read more |
| European Patent No.2098240 | September 11, 2013 | Biological healing promoter | EU (UK) | read more |
| European Patent No.2630961 | November 26, 2014 | Biological healing promoter | EU (UK) | read more |
| European Patent No.2486931 | May 14, 2014 | therapeutic agent for influenza virus infection | EU (UK) | read more |
EU (France)
| patent number | registration date | Title of invention | country of registration | Details page |
| --- | --- | --- | --- | --- |
| European Patent No.1788091 | June 01, 2011 | β-Glucan-Containing Composition, Method for Producing the Same, Food and Beverage Containing the Composition, or Moisturizing Agent for Skin | EU (France) | read more |
| European Patent No.2098240 | September 11, 2013 | Biological healing promoter | EU (France) | read more |
| European Patent No.2630961 | November 26, 2014 | Biological healing promoter | EU (France) | read more |
| European Patent No.2486931 | May 14, 2014 | therapeutic agent for influenza virus infection | EU (France) | read more |
EU (Germany)
| patent number | registration date | Title of invention | country of registration | Details page |
| --- | --- | --- | --- | --- |
| European Patent No.1602377 | August 10, 2011 | β-Glucan-Containing Composition, Constipation Remedy, Immunostimulant and Skin Moisturizer Using the Composition | EU (Germany) | read more |
| European Patent No.1788091 | June 01, 2011 | β-Glucan-Containing Composition, Method for Producing the Same, Food and Beverage Containing the Composition, or Moisturizing Agent for Skin | EU (Germany) | read more |
| European Patent No.2098240 | September 11, 2013 | Biological healing promoter | EU (Germany) | read more |
| European Patent No.2630961 | November 26, 2014 | Biological healing promoter | EU (Germany) | read more |
| European Patent No.2486931 | May 14, 2014 | therapeutic agent for influenza virus infection | EU (Germany) | read more |
Taiwan
| patent number | registration date | Title of invention | country of registration | Details page |
| --- | --- | --- | --- | --- |
| Taiwan Patent Invention No. I282279 | June 11, 2007 | β-Glucan-Containing Composition, Constipation Remedy, Immunostimulant and Skin Moisturizer Using the Composition | Taiwan | read more |
| Taiwan Patent Invention No. I364284 | May 21, 2012 | Biological healing promoter | Taiwan | read more |
| Taiwan Patent Invention No. I496578 | August 21, 2015 | therapeutic agent for influenza virus infection | Taiwan | read more |
Hong Kong
| patent number | registration date | Title of invention | country of registration | Details page |
| --- | --- | --- | --- | --- |
| Hong Kong Patent No.HK1083590 | March 14, 2008 | β-Glucan-Containing Composition, Constipation Remedy, Immunostimulant and Skin Moisturizer Using the Composition | Hong Kong | read more |
| Hong Kong Patent No.HK1109426 | June 14, 2013 | β-Glucan-Containing Composition, Method for Producing the Same, Food and Beverage Containing the Composition, or Moisturizing Agent for Skin | Hong Kong | read more |
| Hong Kong Patent No.HK1136492 | November 29, 2013 | Biological healing promoter | Hong Kong | read more |
| Hong Kong Patent No.HK1083590 | March 14, 2008 | β-Glucan-Containing Composition, Constipation Remedy, Immunostimulant and Skin Moisturizer Using the Composition | Hong Kong | read more |
China
| patent number | registration date | Title of invention | country of registration | Details page |
| --- | --- | --- | --- | --- |
| Chinese Patent No.ZL200480001038.5 | October 10, 2007 | β-Glucan-Containing Composition, Constipation Remedy, Immunostimulant and Skin Moisturizer Using the Composition | China | read more |
| Chinese Patent No.ZL200580029761.9 | September 05, 2012 | β-Glucan-Containing Composition, Method for Producing the Same, Food and Beverage Containing the Composition, or Moisturizing Agent for Skin | China | read more |
| Chinese Patent No.ZL200780040329.9 | April 17, 2013 | Biological healing promoter | China | read more |
Korea
| patent number | registration date | Title of invention | country of registration | Details page |
| --- | --- | --- | --- | --- |
| Korean Patent No. 10-0649855 | November 17, 2006 | β-Glucan-Containing Composition, Constipation Remedy, Immunostimulant and Skin Moisturizer Using the Composition | Korea | read more |
| Korean Patent No. 10-0889165 | March 9, 2009 | β-Glucan-Containing Composition, Method for Producing the Same, Food and Beverage Containing the Composition, or Moisturizing Agent for Skin | Korea | read more |
| Korean Patent No. 10-0961055 | May 25, 2010 | β-Glucan-Containing Composition, Method for Producing the Same, Food and Beverage Containing the Composition, or Moisturizing Agent for Skin | Korea | read more |
usa
| patent number | registration date | Title of invention | country of registration | Details page |
| --- | --- | --- | --- | --- |
| U.S. Patent No. US8,183,031 | May 22, 2012 | β-Glucan-Containing Composition, Method for Producing the Same, Food and Beverage Containing the Composition, or Moisturizing Agent for Skin | usa | read more |
| US Patent No. US8,802,433 | August 12, 2014 | Composition for activating macrophage phagocytosis and/or composition for promoting cytokine production in macrophages | usa | read more |