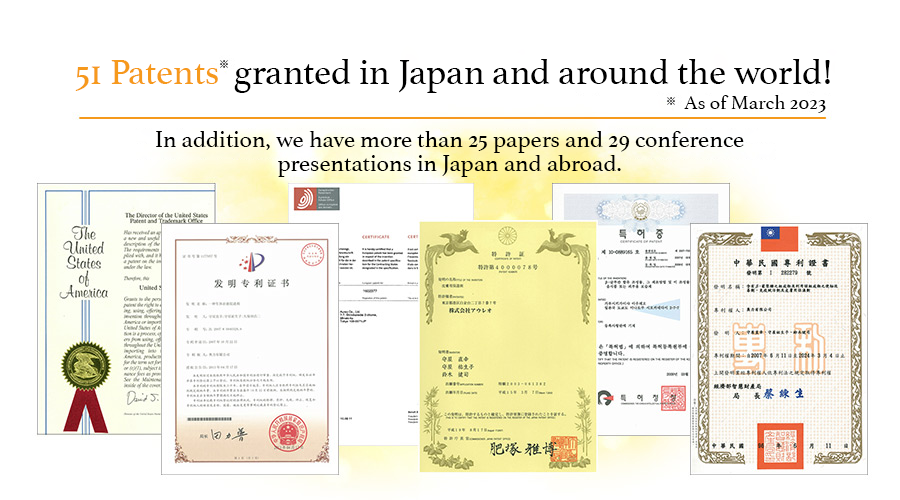 Aureo's beta-glucan is a unique beta-glucan produced by a black yeast fungus called Aureobasidium. When black yeast fungi are cultivated under special conditions, they produce a gel-like substance around themselves. The liquid contains β-glucan with the bonding form
β -1,3-1,6 as the main component. This β-1,3-1,6 glucan is the substance that has been the focus of much attention.
Aureo's black yeast (Aureobasidium) culture is produced by a unique strain of black yeast that Aureo possesses.
Aureo has obtained patents around the world for the proprietary fungus itself, its production method, compositions using the fungus, and even its uses.
Immunostimulant
| patent number | registration date | Title of invention | country of registration | Details page |
| --- | --- | --- | --- | --- |
| Patent No. 4369258 | September 4, 2009 | Immunostimulant | Japan | read more |
therapeutic agent for influenza virus infection
| patent number | registration date | Title of invention | country of registration | Details page |
| --- | --- | --- | --- | --- |
| Patent No. 5560472 | June 20, 2014 | therapeutic agent for influenza virus infection | Japan | read more |
| European Patent No.2486931 | May 14, 2014 | therapeutic agent for influenza virus infection | EU (UK) | read more |
| European Patent No.2486931 | May 14, 2014 | therapeutic agent for influenza virus infection | EU (France) | read more |
| European Patent No.2486931 | May 14, 2014 | therapeutic agent for influenza virus infection | EU (Germany) | read more |
| Taiwan Patent Invention No. I496578 | August 21, 2015 | therapeutic agent for influenza virus infection | Taiwan | read more |
immune adjuvant
| patent number | registration date | Title of invention | country of registration | Details page |
| --- | --- | --- | --- | --- |
| Patent No. 5242855 | April 12, 2013 | immune adjuvant | Japan | read more |
constipation remedy
| patent number | registration date | Title of invention | country of registration | Details page |
| --- | --- | --- | --- | --- |
| Patent No. 4054697 | December 14, 2007 | constipation remedy | Japan | read more |
Composition for promoting hematopoietic function and composition for preventing and/or improving anemia
| patent number | registration date | Title of invention | country of registration | Details page |
| --- | --- | --- | --- | --- |
| Patent No. 6293187 | February 23, 2018 | Composition for promoting hematopoietic function and composition for preventing and/or improving anemia | Japan | read more |
TRAIL expression enhancer
| patent number | registration date | Title of invention | country of registration | Details page |
| --- | --- | --- | --- | --- |
| Patent No. 5937029 | May 20, 2016 | TRAIL expression enhancer | Japan | read more |
Biological healing promoter
| patent number | registration date | Title of invention | country of registration | Details page |
| --- | --- | --- | --- | --- |
| Hong Kong Patent No.HK1109426 | June 14, 2013 | β-Glucan-Containing Composition, Method for Producing the Same, Food and Beverage Containing the Composition, or Moisturizing Agent for Skin | Hong Kong | read more |
| Patent No. 5331482 | August 02, 2013 | Biological healing promoter | Japan | read more |
| Patent No. 5715659 | March 20, 2015 | Biological healing promoter | Japan | read more |
| European Patent No.2098240 | September 11, 2013 | Biological healing promoter | EU (UK) | read more |
| European Patent No.2098240 | September 11, 2013 | Biological healing promoter | EU (France) | read more |
| European Patent No.2098240 | September 11, 2013 | Biological healing promoter | EU (Germany) | read more |
| European Patent No.2630961 | November 26, 2014 | Biological healing promoter | EU (UK) | read more |
| European Patent No.2630961 | November 26, 2014 | Biological healing promoter | EU (France) | read more |
| European Patent No.2630961 | November 26, 2014 | Biological healing promoter | EU (Germany) | read more |
| Chinese Patent No.ZL200780040329.9 | April 17, 2013 | Biological healing promoter | China | read more |
| Hong Kong Patent No.HK1136492 | November 29, 2013 | Biological healing promoter | Hong Kong | read more |
| Taiwan Patent Invention No. I364284 | May 21, 2012 | Biological healing promoter | Taiwan | read more |
Fat accumulation inhibitor
| patent number | registration date | Title of invention | country of registration | Details page |
| --- | --- | --- | --- | --- |
| Patent No. 6380968 | August 10, 2018 | Fat accumulation inhibitor | Japan | read more |
skin moisturizer
| patent number | registration date | Title of invention | country of registration | Details page |
| --- | --- | --- | --- | --- |
| Patent No. 4000078 | August 17, 2007 | skin moisturizer | Japan | read more |
β-Glucan-Containing Composition, Constipation Remedy, Immunostimulant and Skin Moisturizer Using the Composition
| patent number | registration date | Title of invention | country of registration | Details page |
| --- | --- | --- | --- | --- |
| European Patent No.1602377 | August 10, 2011 | β-Glucan-Containing Composition, Constipation Remedy, Immunostimulant and Skin Moisturizer Using the Composition | EU (UK) | read more |
| European Patent No.1602377 | August 10, 2011 | β-Glucan-Containing Composition, Constipation Remedy, Immunostimulant and Skin Moisturizer Using the Composition | EU (France) | read more |
| European Patent No.1602377 | August 10, 2011 | β-Glucan-Containing Composition, Constipation Remedy, Immunostimulant and Skin Moisturizer Using the Composition | EU (Germany) | read more |
| Korean Patent No. 10-0649855 | November 17, 2006 | β-Glucan-Containing Composition, Constipation Remedy, Immunostimulant and Skin Moisturizer Using the Composition | Korea | read more |
| Chinese Patent No.ZL200480001038.5 | October 10, 2007 | β-Glucan-Containing Composition, Constipation Remedy, Immunostimulant and Skin Moisturizer Using the Composition | China | read more |
| Hong Kong Patent No.HK1083590 | March 14, 2008 | β-Glucan-Containing Composition, Constipation Remedy, Immunostimulant and Skin Moisturizer Using the Composition | Hong Kong | read more |
| Taiwan Patent Invention No. I282279 | June 11, 2007 | β-Glucan-Containing Composition, Constipation Remedy, Immunostimulant and Skin Moisturizer Using the Composition | Taiwan | read more |
| Patent No. 4268105 | February 27, 2009 | β-Glucan-Containing Composition, Method for Producing the Same, Food and Beverage Containing the Composition, or Moisturizing Agent for Skin | Japan | read more |
| European Patent No.1788091 | June 01, 2011 | β-Glucan-Containing Composition, Method for Producing the Same, Food and Beverage Containing the Composition, or Moisturizing Agent for Skin | EU (UK) | read more |
| European Patent No.1788091 | June 01, 2011 | β-Glucan-Containing Composition, Method for Producing the Same, Food and Beverage Containing the Composition, or Moisturizing Agent for Skin | EU (France) | read more |
| European Patent No.1788091 | June 01, 2011 | β-Glucan-Containing Composition, Method for Producing the Same, Food and Beverage Containing the Composition, or Moisturizing Agent for Skin | EU (Germany) | read more |
| U.S. Patent No. US8,183,031 | May 22, 2012 | β-Glucan-Containing Composition, Method for Producing the Same, Food and Beverage Containing the Composition, or Moisturizing Agent for Skin | usa | read more |
| Korean Patent No. 10-0889165 | March 9, 2009 | β-Glucan-Containing Composition, Method for Producing the Same, Food and Beverage Containing the Composition, or Moisturizing Agent for Skin | Korea | read more |
| Korean Patent No. 10-0961055 | May 25, 2010 | β-Glucan-Containing Composition, Method for Producing the Same, Food and Beverage Containing the Composition, or Moisturizing Agent for Skin | Korea | read more |
| Chinese Patent No.ZL200580029761.9 | September 05, 2012 | β-Glucan-Containing Composition, Method for Producing the Same, Food and Beverage Containing the Composition, or Moisturizing Agent for Skin | China | read more |
Cytokine production promoting composition in macrophages
| patent number | registration date | Title of invention | country of registration | Details page |
| --- | --- | --- | --- | --- |
| Patent No. 5559173 | June 13, 2014 | Cytokine production promoting composition in macrophages | Japan | read more |
| U.S. Patent No. US8,802,433 | August 12, 2014 | Composition for activating macrophage phagocytosis and/or composition for promoting cytokine production in macrophages | usa | read more |
Bovine mastitis preventive/therapeutic composition and bovine mastitis preventive/therapeutic method
| patent number | registration date | Title of invention | country of registration | Details page |
| --- | --- | --- | --- | --- |
| Patent No. 5554221 | June 06, 2014 | Bovine mastitis preventive/therapeutic composition and bovine mastitis preventive/therapeutic method | Japan | read more |
Probe for observation of intestinal kinetics after absorption using β-1,3-1,6-glucan labeled with stable isotope 2H and/or stable isotope 13C
| patent number | registration date | Title of invention | country of registration | Details page |
| --- | --- | --- | --- | --- |
| Patent No. 5360849 | September 13, 2013 | Probe for observation of intestinal kinetics after absorption using β-1,3-1,6-glucan labeled with stable isotope 2H and/or stable isotope 13C | Japan | read more |
Composition for enhancing effect of antibody drug
| patent number | registration date | Title of invention | country of registration | Details page |
| --- | --- | --- | --- | --- |
| Patent No. 7088502 | June 13, 2022 | Composition for enhancing effect of antibody drug | Japan | read more |