Valentine's Day is just around the corner! Beta-glucan recipes to give to your loved ones
Valentine's Day is coming soon. Every year around this time, I get somewhat excited. This time, we would like to introduce a delicious and healthy Valentine's Day recipe using Aureo's β-glucan. Please try making them while thinking of that special someone in your life as a token of your appreciation.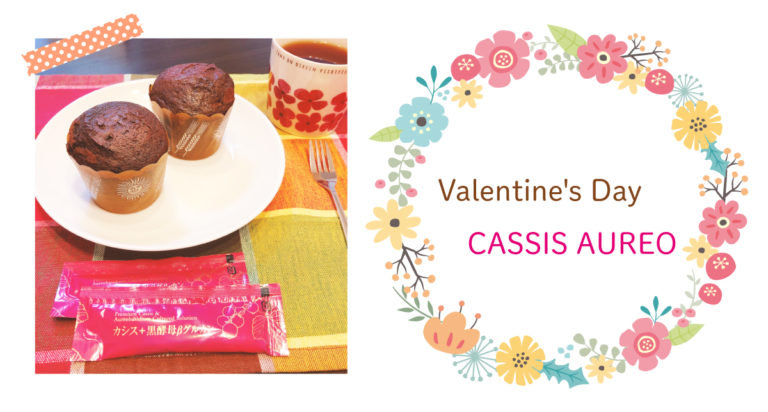 Cassis Ole Cocoa Muffins
☆ Ingredients (for 5~6 muffins)
30 g butter
75g sugar
1 egg
30g oil (I used rice oil this time)
110g flour
5g baking powder (we used aluminum-free baking powder)
60g soy milk (I used adjusted soy milk)
10g cocoa powder
1 bag of blackcurrant ale
☆ How to make
Sift baking powder, flour and cocoa powder and set aside.
Add sugar to room temperature butter and mix with a spatula until creamy.
Add the egg and oil to the second mixture, then gradually add the first mixture and soy milk.
When the mixture is well blended, add the blackcurrant au lait and mix gently.※ The key is to rub the blackcurrant au lait well before adding it.
Pour the mixture into the mold and drop it into the mold with a couple of taps to release the air.
Cover with aluminum foil and bake in a toaster for 15~20 minutes.
When a bamboo skewer is inserted and the dough no longer sticks to it, remove from the toaster and take off the heat!
Aureo's β-glucan supplement "Cassis Ole" contains anthocyanin, a type of polyphenol. The power of cassis will support your healthy life from the inside out.
This recipe is very delicious because the cocoa muffin matches the sweet and sour flavor of the blackcurrant aureole, so please give it a try!
Valentine's Day is just around the corner! Beta-glucan recipes to give to your loved ones